Introduction to Retirement Income Planning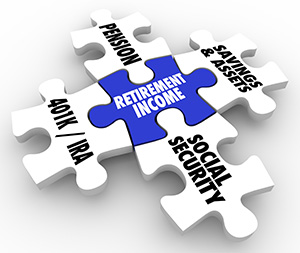 If you're considering retirement, you probably have a lot of questions and you may even be wondering where to start. Here are the steps we suggest. As you go through them, write down your questions and concerns. Retirement is a big moment. It's essential to prepare and have an understanding of your options.
Step 1 – What do you want?
The first step of retirement income planning is understanding your goals and concerns. It's important to discuss your vision for how you'd like to see things play out, but also listen to what worries you.
Here are a few of the questions you should review:
When do you want to retire?
What would you like to do? (lifestyle, travel, etc.)
Will you move?
What concerns do you have?
Are there any health issues?
Will there be any family members you're responsible for?
Step 2 – What do you have?
The next step is to take an accounting of your overall financial situation. Take an inventory of your assets and debts. List your income sources and estimated retirement expenses, and review your insurance coverage.
Step 3 – What's the game plan?
Developing a plan for your lifetime income is step 3. Like the saying, "there's more than one way to skin a cat", retirement income planning is similar. There's usually multiple ways to approach each case. However, knowing your goals, concerns and financial situation makes it easier to review our Retirement Income Playbook and narrow down which strategies to consider. The objective is to develop a retirement plan that you are comfortable with, and that gives you the best chance of reaching your goals.
Step 4 – How are we doing?
There's no guarantee that you will realize all your retirement goals. Life happens, and sometimes you'll need to make adjustments. Ongoing monitoring and two-way communication is the best way to stay current and assess whether to update the game plan or not.