Bonds: Default Risk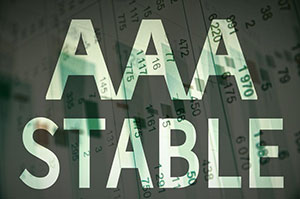 The two biggest risks to bonds are credit risk (default) and interest rate risk (rate fluctuations).
If you are worried about the economy, one of the ways to position yourself a little more defensively would be to own more higher credit quality bonds. This would decrease your credit risk.
Ratings of Bond Credit Quality
Moody's Ratings
S&P Ratings
Rating Descriptions
Aaa
AAA
Prime
Investment Grade
Aa1
Aa2
Aa3
AA+
AA
AA-
High Grade
A1
A2
A3
A+
A
A-
Upper Medium Grade

Baa1
Baa2
Baa3

BBB+
BBB
BBB-
Lower Medium Grade
Ba1
Ba2
Ba3
BB+
BB
BB-
Non-Investment Grade Speculative
Non-Investment Grade
(high-yield /junk)
B1
B2
B3
B+
B
B-
Highly Speculative
Caa1
CCC+
Substantial Risks
Caa2
CCC
Extremely Speculative
Caa3
Ca
CCC-
CC
Default Imminent, Recover % Slim
C
D
In Default
We normally use U.S. investment grade bonds in the "upper medium grade" range. To reduce risk, we can move up to the "high grade" range (Aa3 / AA- and higher), but you will also likely lower your return potential.
Most high yield bond funds are typically in the risky Ba - B / BB – B grade range. There are some funds that tend to focus on the higher "non-investment grade speculative" grades if you wanted "lower risk" risky bonds.
The global bond funds we use are similar to our U.S. investment grade bonds. They are usually in the top half of the broad investment grade ratings. There are funds we can use to target the "high grade" range though. Like with U.S. investment grade bonds, there will usually be less risk and reward.