Pittsboro, North Carolina Financial Advisor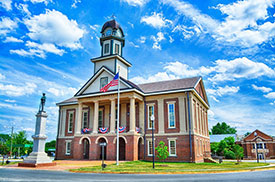 Looking for a financial advisor in Pittsboro, North Carolina? You have more options than just working with one of the larger brokerage firms. Consider a short drive to Apex for an independent, fee-only financial advisor who works in your best interest as a fiduciary.
It is important to work with one of the best financial advisors when planning your retirement and investing your hard-earned money. Blue Water Capital Management, LLC has over 20 years of experience. We specialize in retirement planning and tailored investment portfolios. We do not work on commissions or any kickbacks, we work for you.
Pittsboro is a fast-growing town, especially with the development of Chatham Park. There's a lot to like about Pittsboro, from its great family vibe to its growing dining and shopping areas, and its proximity to Jordan Lake. If you're new to Pittsboro, or just looking for a more unbiased financial advisor, thank you for considering Blue Water Capital Management, LLC.
Review the rest of our website to see how our financial planning services can help you. Learn more about us, our services, and our fees and feel free to reach out with any questions.
Blue Water Capital Management, LLC – serving Pittsboro, and other Triangle communities.
Phone: 919-589-2528