Holly Springs, North Carolina Financial Advisor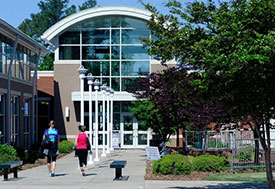 Holly Springs, North Carolina has experienced tremendous growth over the last few years. It's no wonder so many people are moving to Holly Springs as it consistently ranks as one of the best places to live. We are especially excited by the downtown development.
If you're new to Holly Springs, or just looking for a more unbiased financial advisor, consider Blue Water Capital Management, LLC. We are an independent, fee-only financial advisory firm specializing in retirement planning, financial planning and custom investment portfolios. Our retirement plans include detailed cash flow projections, probability of success analysis, "what if" scenario planning, stress testing, and portfolio withdrawal strategies.
Blue Water Capital Management, LLC has over 20 years of experience. We do not work on commissions or any kickbacks, we just work for you and your best interests. And often, we are less expensive than the larger brokerage firms. Check out the rest of our website for more information about us, our services, and our fees and see how we can help you achieve your financial goals.
Blue Water Capital Management, LLC – serving Holly Springs, and the surrounding areas.
Phone: 919-589-2528