Financial / Retirement Planning
Financial planning consists of six main areas. Changes in one area often affect other areas. It is imperative to work with a CFP® professional who understands how to build a coordinated financial plan.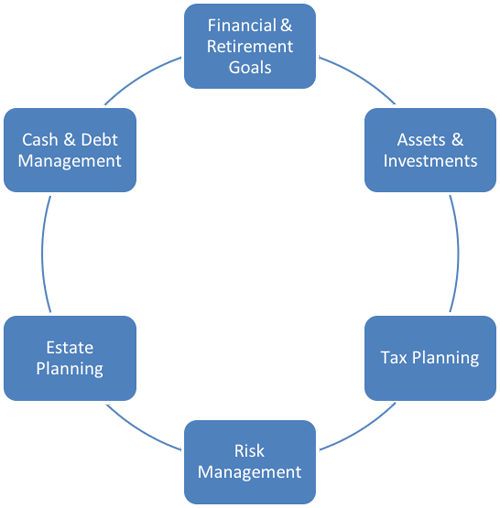 Financial & Retirement Goals

Goal & Lifestyle Definition
Accumulation & Funding Strategies
Review Strategies from Retirement Income Playbook

Social Security and Pension Options
Cash Flow Buffer
Lifetime Retirement Income

"What If" Scenarios with Various Plan Testing

Retirement Cash Flow
Probability Analysis (Monte Carlo)
Stress Testing
Withdrawal Rate Sustainability

Assets & Investments:

Investment Education & Strategy
Portfolio Allocation & Asset Location
Tax Considerations
Investment Selection
Stock Option Planning
Restricted Stock Units (RSUs)
Rental Real Estate
Business Ownership and Retirement Plans
Management (optional)

Rebalancing
Tax
Contributions &
Distributions

Tax Planning:

Review Current Tax Exposure
Analyze Current and Future Tax Efficiencies
Advanced Strategies

Cash & Debt Management:

Net Worth and Cash Flow
Mortgage and Other Debt Analysis
Emergency and Short-Term Savings

Estate Planning:

Review Wills
Review Power of Attorneys
Review Trust(s)
Asset Titling
Beneficiary Designations
Philanthropy / Legacy Planning
Advanced Strategies

Risk Management:

Review the Following Insurance Coverage:

Heath
Life
Disability
Long Term Care
Auto, Home, Liability

Other Liability Reduction Strategies
Our financial plans are about quality, not quantity. You will not be handed a 50-page spiral-bound "plan" full of boilerplate language with confusing numbers and line graphs. We provide a Recommendations Report, which simply provides specific recommendations and details about what you need to do and when in each planning area. You are encouraged to track your progress through periodic or annual review meetings.
Continue to our Financial Planning services.