Frontier Markets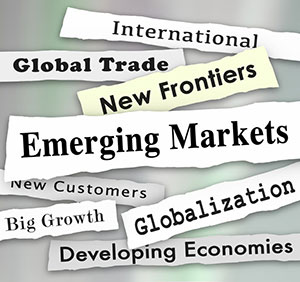 Most of the time, when people refer to international markets, they are talking about international developed markets like Europe, Asia, Japan, Australia, etc. Like the U.S. they are considered more advanced economically.
Emerging markets have more of "emerging" economies. They typically have lower-than-average per capita income and are experiencing rapid growth, development and social change. Typical emerging markets are the BRICs (Brazil, Russia, India and China) and PIIGS (Portugal, Ireland, Italy, Greece and Spain) but also include other countries like Hungary, Malaysia, Mexico, and South Africa.
Frontier markets are made up of countries that are even economically less developed than emerging markets. These include Argentina, Bahrain, Croatia, Estonia, Jordan, Lebanon, Lithuania, Mali, Morocco, Romania, Serbia, Sri Lanka, Turkey and Vietnam among others. There are funds that invest in frontier markets. They would typically complement an emerging markets fund and not completely replace them. So, if an allocation called for 4% in emerging markets, frontier markets may make up 25% - 50% of that and the rest would be in a broad emerging markets fund.