"Big Picture" Retirement Review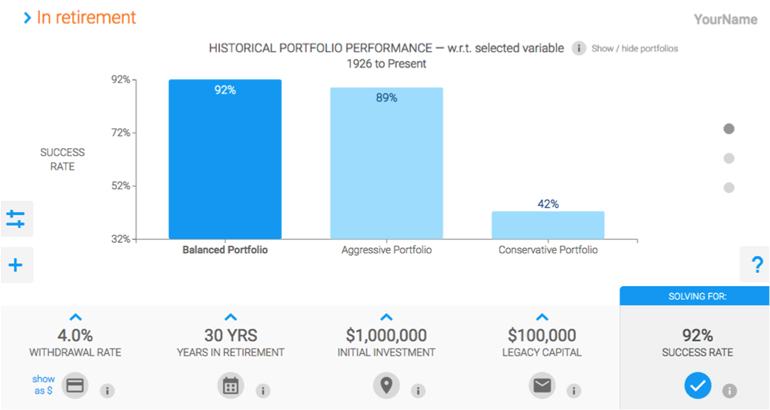 A 30-minute exercise with a CFP® Professional exploring your "big picture" retirement goals and the relationship each of the following factors might have in your success.
Pre-Retirement
Annual savings rate
Years to retirement
Retirement savings goals
Portfolio allocations
Portfolio expenses
Confidence levels
Retirement
Monthly spending and withdrawal rates
Years of retirement
Legacy capital
Portfolio allocations
Portfolio expenses
Confidence levels
We're essentially taking your high-level goals and running them through multiple "what if" scenarios based on historical market data (1926 – present).
Let's say you're about to retire. You have a $1,000,000 invested in a 50% stock portfolio with a 1.20% expense ratio. You want to withdraw 4%/year and still have $100,000 remaining after 30 years. We could show you that your historical confidence level was 73%. That means that out of the 730+ rolling 30-year periods since 1926, you accomplished your goal in 73% of the periods.
Then we can explore the various factors. There are numerous ways to view the data, but here are a few.
| | |
| --- | --- |
| In this example, if you: | Than your confidence level changes to: |
| Lower your expense ratio to 0.80% | 82% |
| Lower your withdrawal rate to 3.7% | 85% |
| Lower your time frame to 28 years | 80% |
| Lower your legacy capital to $50,000 | 78% |
| Increase your portfolio to 60% stocks | 84% |
| Combination of the first 2 | 93% |
We can solve for any factor or combination of factors.
How large of a portfolio do I need in order to withdraw $60,000/year from it for 25 years and still have a 90% confidence level?
Has an allocation of 30% stocks or 50% stocks historically worked better for my situation?
How much can I withdraw from my portfolio over 27 years and maintain a 95% confidence level.
It can be helpful for people who are still 20 years away from retirement as well. Once we narrow down your high-level retirement goals, we can explore how changing your savings rate, years to retirement, allocation, and expenses can all impact your confidence levels.
Cost: $99
Contact us to schedule your "Big Picture" Retirement Review.